17 Nov

Hundreds turn out for Capitol Rally!

On Wednesday, CP State and its partners in New York Disability Advocates rallied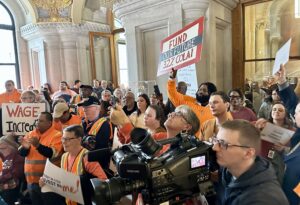 for a permanent investment in direct care staff alongside the annual cost-of-living-adjustment (COLA) increase in Governor Hochul's SFY25 executive budget. Advocates were joined by elected officials, non-profit provider agency executives, Direct Support Professionals, self-advocates, and family members to raise awareness of the impacts of historic underfunding and resulting workforce crisis that is severely hampering the I/DD service sector.
Advocates called on Governor Hochul to include both a Direct Support Wage Enhancement in direct support salaries to help recruit and retain staff and an 3.2% COLA increase in the SFY 2025 Executive Budget.
"Non-profit provider agencies continue to struggle with rising costs of inflation and an ongoing staffing crisis that has plagued our industry for years," said Mike Alvaro, President and CEO of CP State and President of NYDA. "A 3.2% COLA increase and a DSWE to recruit and retain quality staff is absolutely necessary to help solve the decades-long challenges our sector continues to face and ensure the long-term sustainability of the I/DD service field. Thousands of New Yorkers with I/DD and their families are depending on it."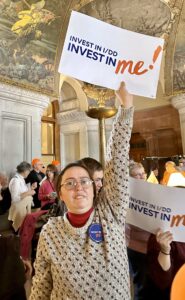 Senator John W. Mannion, Chairman of the Disabilities Committee, said, "Significant new state investment is needed to stabilize the workforce and show the proper respect and appreciation for DSPs and other professionals who work with the I/DD community. As Chairman of the Disabilities Committee, I strongly support today's New York Disability Advocates rally at the Capitol and will continue to be a partner in delivering better pay and better services."
Chair of the Assembly People with Disabilities Committee Rebecca Seawright (AD-76) said, "Not-for-profit providers are hemorrhaging workers because of unfair wages and a soaring cost of living. We are renewing our fight for these Direct Support Professional workers who are a lifeline for people living with intellectual and developmental disabilities. Without them, people would be in danger and lose their right to autonomy. Together, we will fight for an increase in COLA and the Direct Support Wage Enhancement to support the recruitment and retention of this vital workforce."
"Direct support professionals are important to live the life I want to live and for those with I/DD around New York State. Because of this I am asking legislators to help us live the life that the system promises, and provide the COLA and the DSWE in the upcoming budget," said BJ Stasio, Co Vice-President, Western Region & Buffalo, The Self-Advocacy Association of New York State
"There is a staffing crisis affecting people with I/DD in NYS. This is a real crisis where people are finding that their basic need and supports are not met and they cannot live the life they choose. For over a decade there has been simply not been enough investment in wages in staff, DSPs, community support and more. At SANYS we ask that individuals speak up no matter who you are. We ask that New York make a change to ensure a living wage for direct support and other professionals. Otherwise, people cannot live the life they want," said Marilyn Stata, President, Western Finger Lakes, The Self-Advocacy Association of New York State
"The staff that work with me at the Center for Disability Services Without Walls program is a really important part of the service I receive. All of us in the program depend on them every day, and when staff leave it really throws me off balance and is upsetting. I have seen a lot of staff leave and it is not easy to replace them. These people matter to me, and these services matter to me. Governor Hochul, invest in me!" said Catarina Karlquist, self-advocate.
With rising costs due to inflation, coupled with a decade's long workforce recruitment and retention crisis and historic underfunding, the not-for-profit provider agencies that provide supports and services to more than 85% of New Yorkers with I/DD are struggling with the operational costs that have drastically outpaced the funding, thereby threatening the future viability of the field.
The results of a recent New York Disability Advocates survey found that non-profit provider agency staff vacancies remain in excess of 17% in 2023 and one in three Direct Support Professionals leave their jobs every year. Subsequently, high levels of staff turnover are costing New York's non-profit disability service providers $100.5 million annually. This cost directly inhibits funding essential supports and services for New Yorkers with I/DD. Unfortunately, without adequate funding to offer competitive wages, agencies cannot recruit and retain staff to build a sustainable I/DD service system.
For more information on the New York Disability Advocates' legislative priorities for the SFY 2025 Executive Budget, visit: nydisabilityadvocates.com.