03 Oct

CHOP program is life-changing for people with disabilities

We do a lot of different things at CP State to help people with disabilities. One of the many ways we do that is through our Community Health Outreach Project. CHOP grants fill in the funding gaps for individuals when other sources have been exhausted.
Read on to see how CHOP has changed the lives of New Yorkers with disabilities.
Maureen and Janet – The Center for Disability Services
Maureen and Janet live at the Bouchard IRA operated by The Center for Disability Services. Both ladies rely solely on a mechanical lift for all transfers and are dependent on this essential equipment for their daily mobility.
Last year, Bouchard ran into quite the dilemma becau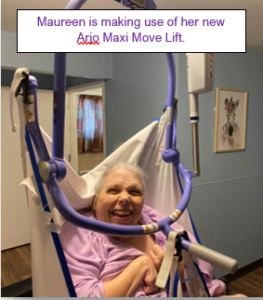 se their old mechanical lift abruptly stopped working. Their non-working lift, an Arjo Marisa, was well over 15 years old and had been discontinued so replacement parts for repair were no longer available.
The Center would need to borrow a lift from another program immediately to satisfy the needs of these two individuals and to keep them safe. Although this would be an immediate remedy, the equipment borrowed was not exactly what they needed and was a stop gap only and ultimately would need to be returned.
The best and safest option would be to obtain a new piece of equipment for Maureen and Janet. After a thorough evaluation by the Occupational Therapist, it was determined that the best and safest lift to meet the needs of the ladies would be an Arjo Maxi Move lift.
The process of procurement of such an expensive piece of equipment began and as luck would have it, the arrival of the new lift was just in time because the hydraulic lift that was loaned to Maureen and Janet stop working as well!!
Upon review of the Community Health Outreach Program's memorandum, it was determined that we would try to recuperate at least some of the funds because, as noted, we would need to replace at least one other lift for a few other individuals immediately.
Working closely with the Outreach Program's coordinating manager, to our surprise the Community Health Outreach Program was able to fully reimburse the Center for Disability Services for Maureen and Janet's brand new lift!
This new Arjo Maxi Move lift has everything Maureen and Janet needed to be safe. Everyone at the Bouchard residence now have a great peace of mind knowing their new lift will be trustworthy and reliable for many years to come!
From CHOP awardee, Arc Herkimer
On behalf of Arc Herkimer's board, staff, and volunteers—and especially on behalf of the people with disabilities we serve—please extend my gratitude to the Awards Committee of the Community Health Outreach Project (CHOP). Thank you, also, for sharing this letter with your funder, the Mother Cabrini Health Foundation. I look forward to keeping in touch in the coming months and new year.
Your generous support facilitated the purchase of three Maxi Sky Ceiling Lifts, one Maxi Move (with two slings) and two Parker tubs. I am pleased to enclose a photo of Chloie and Kittie, our Direct Support Professional and a person we support, using the Maxi Move at our Cottage Street residence. Their smiling faces say it all!

Matt and Joey – The Center for Disability Services
Matt and Joey suffer from chronic hypothermia, which has caused them extreme discomfort and lengthy hospital stays.  Center for Disability Services was able to obtain a Bair Hugger machine in October 2019, which is a patient warming unit used for people with hypothermia in the Emergency Room.  This unit provides heated air through a blanket to help warm up the core temperature of the patient.  Although this is a great way to alleviate hypothermia, both Matt and Joey struggled to keep the ridged air-filled blanket on.  They often refused to stay in bed and lie flat while the blanket was "doing its job", and trying to keep it on them while they were in their wheelchairs proved to be very difficult.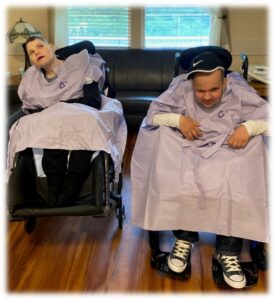 Additionally, the Center's protocol states that each individual using the Bair Hugger blanket must have a rectal temperature taken every 20 minutes.  Since this device can be used up to 4 hours, taking up to 12 rectal temperatures can be quite invasive.  In addition to the discomfort, the constant disrobing causes further body cooling.
During the past year, Joey was hospitalized 9 days and Matt was hospitalized 27 days, both with hypothermia.  Therefore, it was necessary for Center for Disability Services to research other product options.
With the help of the Community Health Outreach Project grant funds, we were able to purchase a 3-month supply of Bair-Hugger gowns, which can easily be worn while sitting upright in a wheelchair, and Bair-Hugger single-patient use temperature sensors, which provide accurate core temperature readings from the forehead.  The sensor's internal memory chip retains two hours of temperature data.
Since we began using these products in February 2020, Joey and Matt have a lot to be happy about since they have had ZERO hypothermia-related hospitalizations!!
Center for Disability Services, and specifically, our Nott Road Residence team, is very grateful and appreciative for this grant, and we hope that others can benefit as much as we have!  Thank you to the Cerebral Palsy Associations of NYS and The Mother Cabrini Health Foundation for their generosity.
Harry – The Arc Lexington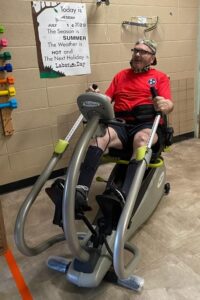 Harry has been patiently awaiting the day when he could leave his home to go back to in-person physical and occupational therapy.  He was so excited to see all of his therapists in person today.
With the help of the Community Health Outreach Project grant funds, Lexington was able to invest in a new piece of exercise equipment at our Burke clinic site called the NuStep.
Harry was lucky enough to be the first person to try it out.  He was so happy to be able to access a cross-trainer style bike, since regular equipment at a gym is not always accessible due to his transfer and mobility needs.  The NuStep will help Harry improve his strength and endurance, which in turn, will help improve his ability to transfer and walk.  There are 17 other individuals at our Burke Clinic who will benefit from the NuStep to develop much-needed strength and independence that can help manage a variety of conditions and mobility needs.
The Arc Lexington New York is extremely grateful and appreciative for this grant!  We extend our sincere thanks to the Cerebral Palsy Association of NYS for administering this grant, and to The Mother Cabrini Health Foundation for its generosity.
Jeremiah – Schoharie Arc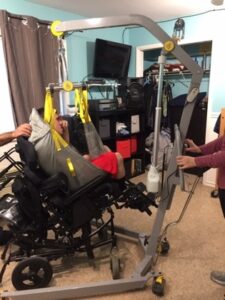 THANK YOU to the Cerebral Palsy Associations of NYS and The Mother Cabrini Health Foundation for the financial support you provided to Schoharie ARC through the Community Health Outreach Project.  Jeremiah, who lives at our Pine Street Residence, uses the SureHands lift and sling to safely transfer from his wheelchair to his bed.  Staff reported prior to using SureHands equipment, Jeremiah displayed discomfort being lifted with a mechanical system.  Now he appears to be comfortable and does not demonstrate the anxiety he once displayed!