09 Mar

ACTION ALERT: One-house budget advocacy push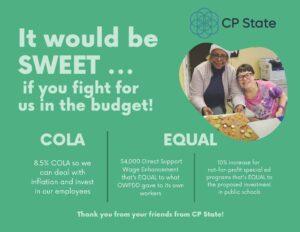 We're down to the wire! We expect to see the Senate & Assembly One House Budget bills early next week.
The next day or two are critical that you visit your local legislators, write and call!
VISIT YOUR LOCAL DEMOCRATIC SENATORS & ASSEMBLYMEMBERS:
We are asking every Affiliate to join the DDAWNY folks by visiting all your Democratic legislators and dropping off a can of cola and a packet of equal with this flyer. 
It only takes a few minutes to drop it off and ask to speak to a staff person or the legislator if they are available.
WRITE AND CALL YOUR LOCAL LEGISLATORS ON ALL OUR PRIORITY ISSUES:
It is extremely easy and important that you, your staff, Board and volunteers also write to all legislators' offices.  Go to the CP State one clicks and it will send the email letter to your legislators and the Governor.
Click on each of the priority issue links below (right now – don't wait):
Click Here to join us in urging both houses of the New York Legislature to include an 8.5% Cost-Of-Living-Adjustment (COLA), as well as the establishment of a Direct Support Wage Enhancement (DSWE) to increase hourly pay for Direct Support workers in their respective one-house budgets!
Click Here to join us in advocating for all children with disabilities who attend 4410 and 853 schools are public school children and should receive funding equitable with their school district peers.
Click Here to join us in advocating for clinic services and health equity for people with disabilities.
Click Here to join us in advocating for 11% increase to recruit and retain EI providers who provide life-changing interventions to infants and toddlers.  New York State's terribly low reimbursement rates are causing thousands of children with developmental delays and disabilities to go without sorely needed Early Intervention (EI) services.
GIVE A CALL TODAY & TOMORROW!
If you have a relationship with a member or their staff give them a call and let them know how important these issues are to you.
Let me know if you have any questions or need any assistance.
Thank you in advance for reaching out to your legislators.  We can do this if we all work together.